Into the blue: Half-planned travels of an amateur vagabond
Kevin Barron feels guilty if he stays at home and does nothing. His solution is to visit other countries and do nothing there instead. An added benefit is that writing about it gives him something to do at home. 
Lose your ticket before you've even set off, find out what whalers think of Greenpeace, dodge dive-bombers, meet dangerous truckers, interview a tennis star, witness horror, walk all night, fish for your dinner, watch sunsets in the wilderness, ride legendary highways, stargaze in the Rockies, hitch-hike through the outback, be rescued by an angel, become Robin Hood, escape from Colditz.
This collection of stories covers more than a decade of travel, so throw your backpack over your shoulder and head off…into the blue.
Buy now on Amazon US
Buy now on Amazon UK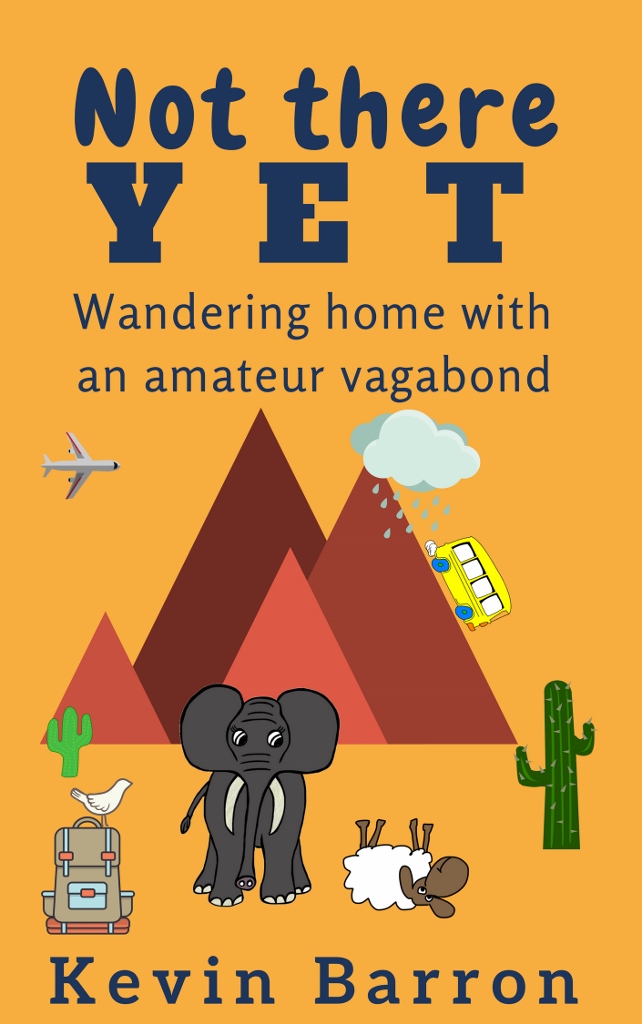 Not there yet: Wandering home with an amateur vagabond
When you leave, at what point do you start going home? And when you leave and don't come back, where is home?
Moving to another country for a while provides an excellent opportunity to travel on the way. Having threatened The Big Trip for years, Kevin Barron finally takes the plunge and, as a result, finds that the idea of home is not as clear as it used to be.
Kayak in the rain, meet an Aboriginal elder, make conversation with a grumpy barber, kill sheep, crash a car, eat entrails, be in the Middle East on 9/11, ride legendary highways, find yourself face to face with an elk, get lost in the African night, have the best view at Shangri-La, fight a fire, be ill on an overnight bus, search for intruders, flirt, haggle, dance, joke, eat, hike, misunderstand, leave home and return.
This collection of stories follows those of Into the blue, so throw your backpack over your shoulder again and set off on the never ending journey home.